A week's worth of activities for kids to fend off the winter blahs
The dead of winter for kids is often a time of staying indoors, or trying to find ways to make colder outdoor play fun and engaging. Kids can't spend as much time outside as they do in warmer months, but families can still have a great time fighting the winter blahs. Here is a week's worth of indoor and outdoor activities to do with your kids to keep you occupied until the thaw.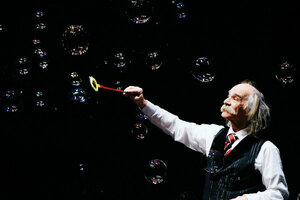 Andrew D. Brosi/Nacogdoches Daily Sentinel/AP/FLE
1.

Frozen bubbles

Turn to a warm-weather outdoor activity – blowing bubbles – when the weather turns frigid to create whimsical frozen bubble art. Photographer Angela Kelly and her son mixed their own soap bubbles and created beautiful frozen bubbles in their own backyard when the temperature dropped to only 16 degrees Fahrenheit.

Too blustery to try frozen bubbles outside? There is also an inside version. The website Wikihow explains how to mix your own bubble solution, blow bubbles onto a plate, and freeze the plate with the bubbles to create your own frozen bubble art in the comfort of your kitchen.