Family Emergency Preparedness: Five tips to be ready
Fires, floods, extreme winter weather, natural disasters – all these scenarios leave most families scrambling to stay safe and secure. Here are five resources to help keep your family at the ready in the case of an emergency.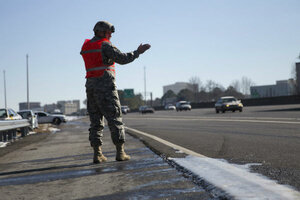 Chris Aluka Berry/Reuters
1.

Build emergency kits

Have an emergency kit ready for your home and as many vehicles as your family uses. When you build or buy a kit, make sure it has basic essentials, including: first aid supplies, water, a flashlight, a battery operated radio, a pocketknife, a couple yards of heavy twine, and non-perishable foods that can be eaten without cooking. Be sure to review kit contents with your family. Explain when and how to use the items in the kits. Be sure to re-stock the contents of the kit after use and refresh the contents (including batteries) to keep your kit at the ready. The American Red Cross offers kits for sale and The Weather Channel offers a detailed list of what to include to keep your family safe.