20 movies for Gen-X parents to dust off for their kids
Parents, like their kids, are often sucked into the marketing machine for kids' movies released today. How about dusting off some favorites from the late 60s, 70s, and 80s for kids to enjoy anew? Here's a list of classic movies that Gen-X parents will remember watching in the theaters (or on VHS or Beta cassette tapes), that they can now enjoy with their kids. Most all of the films that made the list would be acceptable for kids ages 8 and older.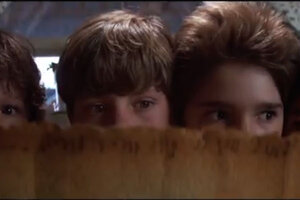 YouTube
1.

Goonies

This 1985 adventure follows a rag-tag team of kids living in Astoria, Ore., fighting to save their homes from demolition, and stumbling into the adventure of a lifetime. That adventure includes discovering an old map that leads to the lost treasure of 17th-century pirate "One-Eyed Willie" and fighting a band of villains along the way to the prize.