Javascript is disabled. Quiz scoring requires Javascript.
How well do you know Our Lady of the Ladle? Take the Julia Child quiz!
Is "Mastering the Art of French Cooking," your kitchen Bible? Does that warbling voice still drive you wild? Was Julia Child the one who taught you how to make a soufflé, how to debone a duck, or simply how to be fearless in the kitchen?
August 15 marks what would have been her 100th birthday. Celebrate by putting your knowledge of one of America's greatest chefs to the test with our quiz!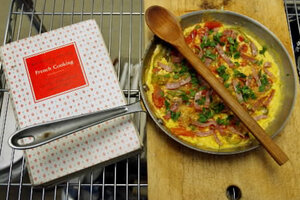 Melanie Stetson Freeman/The Christian Science Monitor
1.

What was the name of Julia Child's first cookbook, which she co-authored with Simone Beck and Louisette Bertholle?

"The French Chef Cookbook"

"Mastering the Art of French Cooking"

"From Julia Child's Kitchen"