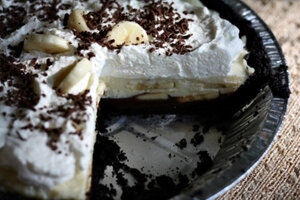 The Gourmand Mom
Black bottom banana cream pie

By Amy Deline, The Gourmand Mom

For the filling

3 cups whole milk
1/3 cup cornstarch
1/2 cup sugar
1/4 teaspoon salt
1 vanilla bean, split in half lengthwise, seeds scraped
1 teaspoon vanilla extract
3 egg yolks
2-3 bananas, sliced

For the crust

2 cups chocolate wafer cookies, crushed
1 stick unsalted butter, melted

For the ganache

4 ounces semi-sweet chocolate (4 squares of semi-sweet baking chocolate)
1/4 cup plus 2 tablespoons heavy cream

For the whipped cream

1 cup heavy cream
2 tablespoons sugar

To make the filling

1. Combine the sugar, salt, and half of the cornstarch in a sauce pan. Pour in the milk and vanilla extract. Add the vanilla bean and seeds to the mixture. Stir. Cook over medium heat for about 5-6 minutes until the mixture just comes to a boil and the sugar is completely dissolved. Remove from heat.

2. In a bowl, lightly beat the egg yolks with the remaining cornstarch. Slowly add about 1/4 cup of the hot milk to the eggs and whisk to combine. Add another 1/4 cup of the hot milk and whisk to combine. (This slow addition of the hot liquid tempers the egg yolks and prevents them from scrambling when added to the hot liquid.)

3. Pour the egg mixture into the pot. Bring the mixture to a boil, whisking constantly. Cook for a few minutes until the mixture thickens. Remove the vanilla bean. Pour the filling into a bowl. Place a piece of plastic wrap directly against the filling. Refrigerate for about an hour to cool. Meanwhile, prepare the crust.

To make the crust

Combine the cookie crumbs with the melted butter. Press the mixture onto the sides and bottom of a pie shell. Refrigerate.

To make the ganache

1. Place the chocolate in a bowl. Heat the cream, until it just begins to boil. Pour the hot cream over the chocolate and stir until the chocolate completely melts. Pour the warm ganache into the pie crust.

2. Arrange banana slices in the ganache. Refrigerate for about 30 minutes.

3. Pour about half of the filling on top of the ganache and banana slices. Arrange another even layer of banana slices on top of the filling.

4. Cover the banana slices with the remaining filling. Refrigerate until thoroughly cooled.

5. Beat the heavy cream with the sugar until thick.

6. Top the pie with the whipped cream. Sprinkle with chocolate shavings, if desired. Refrigerate until ready to serve.

Tip: Banana slices which are exposed to air will begin to turn brown. If you want to decorate the pie with banana slices, either wait until the last minute or toss the banana slices in a bit of lemon juice to slow the browning.