Vegetarian ideas: 35 meatless dishes
Vegetarian diets are becoming more and more mainstream. More people are realizing that dinner doesn't have to include meat to be delicious. Whether you're a vegan, vegetarian, do Meatless Monday once a week, or are just trying to get more plant-based meals on your plate, this recipe list is sure to inspire new ideas.
Take taco night in a new direction with squash and black bean tostadas, give a Saturday a savory start with drop biscuits and vegetarian red eye gravy, or brighten up the next backyard barbecue with a quinoa, corn, and feta salad.
From chili, to burgers, to salads of all sorts, you'll find new takes on old favorites on this lists, and a few surprises, too.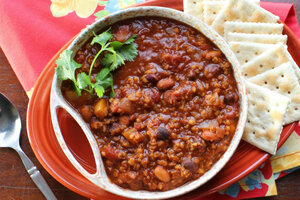 A Palatable Pastime
Vegan chili

By Sue Lau, A Palatable Pastime

2 tablespoons olive oil

2 tablespoons chopped garlic

1 large white onion, chopped

28 ounces can fire-roasted diced tomatoes

16 ounces can crushed tomatoes or tomato sauce

4 ounces chopped green chillies

32 ounces vegetable broth

1 teaspoon garlic powder

1 teaspoon onion powder

1/4 cup chili powder

1 tablespoon smoked paprika

1 teaspoon ground cumin

1 teaspoon oregano

1/4 teaspoon cayenne pepper

Salt and black pepper, to taste

1 cup bulgur wheat

4 cups cooked beans: black beans, kidney beans, pinto beans, etc.

1. In a dutch oven heat oil and add garlic and onion; cook until onions are soft, stirring occasionally.

2. Stir in tomatoes, chopped green chillies, vegetable broth, remaining spices, and bulgur.

3. Bring mixture to a boil, then reduce heat, cover, and simmer, stirring occasionally, for 30 minutes.

4. Add beans to the mixture and continue to cook for another 15-25 minutes or until bulgur is tender.