19 delicious butternut squash recipes
Butternut squash is a deeply orange winter fruit that is as used as a vegetable. It has a sweet, nutty flavor that is similar to pumpkin and can be substituted for pumpkin in many recipes. The hardest part of cooking with butternut squash is cracking the thing open with a sturdy knife. Its skin is thin enough to peel with a vegetable peeler. Or you can take a shortcut and buy peeled and pre-cut butternut squash sold in many grocery stores.
To roast a whole butternut squash, simply cut it in half, scoop out the seeds, brush with olive oil, and bake face down in a 400 degree F. oven until it can be pierced with a fork (about 30 minutes).
Once you have have roasted, toasted, puréed, or even microwaved (for just 8 minutes!) your butternut squash, use it to make salads, soups, pastries, pasta dishes, and even pie. Or simply mash it up, slather with butter, and serve it as a side dish on its own, like mashed potatoes.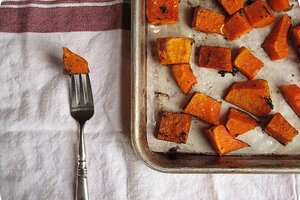 In Praise of Leftovers
1.

Perfectly roasted butternut squash

This method ensures the squash stays just moist enough while it's roasting. Keeping it covered the whole time would render it too mushy, and keeping it uncovered might dry it out.

Squash, chopped and seeded
Olive oil, enough to cover squash
Coarse salt, to taste
Freshly cracked pepper, to taste
Fresh thyme, to taste

1. Preheat oven to 425 degrees F.

2. Cut up a medium butternut squash.

3. Toss it with a couple glugs of good olive oil, coarse salt, pepper, and some fresh thyme if you have it.

4. Spread it out in a single layer on a parchment-lined baking sheet, cover the squash with foil, and bake for 12 minutes. Remove foil and roast for 12-15 minutes more until squash is tender.

Read the full post on Stir It Up!