10 pancake recipes for Shrove Tuesday
It's Pancake Day for those who honor Shrove Tuesday (Fat Tuesday, Mardi Gras) as the last day before Lent. In other words a day to indulge, and what better way than with a huge stack of warm pancakes dripping with butter and syrup?
Whether you celebrate the season of Lent or not, pancakes can bring a smile to any face so why not join in the syrupy and buttery revelry? Stir It Up! bloggers offer a range of creations from classic buttermilk to pumpkin to savory and even hearty whole wheat pancake recipes. So get your griddle hot and start piling your hot cakes stacks high.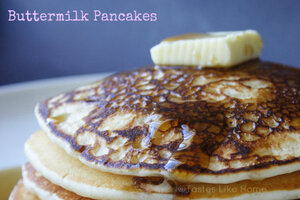 Tastes Like Home
1.

Buttermilk pancakes

Makes 8 to 12 pancakes

2 eggs, room temperature
2 cups buttermilk, room temperature
2 cups all purpose flour
2 teaspoons baking powder
1 teaspoon baking soda
3 tablespoons sugar
1/2 teaspoon ground cinnamon (optional)
A pinch of salt
Vegetable oil

1. Mix together the flour, baking powder, baking soda, sugar, cinnamon and salt and set aside.

2. Whisk together the buttermilk and eggs.

3. Mix together the flour mixture and the buttermilk-egg mixture until just combined. Do not over mix. Cover and let rest at room temperature for 10 to 15 minutes.

4. Brush pan or griddle with oil and heat over medium heat. Add a couple drops of water to test if the pan is heated enough. If the water sizzles for about 3 to 4 seconds, it's ready. If the water sizzle and dissipates almost immediately, the pan is too hot, reduce the heat.

5. Pour batter 1/3 cup or 1/2 cup at a time, into the center of the pan, spread lightly if you like with the bottom of the ladle or cup. Let cook until bubbles form, run your spatula along the edges and bottom of the pancake, flip and cook until the pancake can be lifted without resistance.

6. Lightly oil pan or griddle and repeat the process until all the pancakes are made.

NOTES:

The warmer the ingredients, the more tender the pancakes and the higher they will rise.

Rest the cooked pancakes on a wire rack so that it does not sweat while sitting.

Keep pancakes warm in a 120 degrees F. oven.

If using a 1/2 cup measure, you will get 8 pancakes; if using a 1/3 cup measure, you will get 10 pancakes.

Read the full post on Stir It Up!