16 asparagus recipes
With its delicate flavor and bright green spears, asparagus has long been identified as a harbinger of spring. This early vegetable can be mixed into stir fries, blanched in boiling water, roasted, or even grilled and sprinkled with Parmesan cheese. Serve asparagus with a poached egg to fortify a breakfast meal. Or chop it up for added crunch in a salad. Too much too soon? Asparagus can be pickled and saved to enjoy long after summer's heat has ended its growing season.
From pastas to salads to sauces, enjoy these simple ideas from Stir It Up! bloggers for cooking up asparagus on the stove top, in the oven, or on the grill.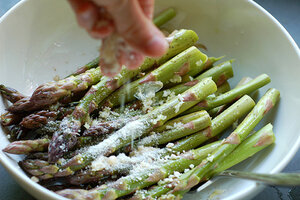 Garden of Eating
1.

Parmesan garlic grilled asparagus

Serves 4 as a side dish

1 bunch asparagus
2 garlic cloves, peeled and pressed or minced
3 tablespoons grated Parmesan cheese (you can also use Romano, Locatelli, etc., any salty, hard cheese would work)
2-3 tablespoons olive oil
Sea salt to taste
Black pepper to taste

1. Wash the asparagus and snap the woody ends off (you'll feel where you should snap when you bend them a bit) and place them in a large bowl. Preheat the grill and give it a good scrape to clean it.

2. While the grill is heating up, toss the asparagus with all the other ingredients until well-coated.

3. Lower the flame to medium and lay the asparagus spears crosswise to avoid dropping any through the grill. Cover and grill for about 5 minutes, turning often to prevent them from burning. Grilling times will depend somewhat on how powerful your grill is and also on the size of the asparagus.

Read the full post on Stir It Up!