10 recipes for Taco Tuesday
It's Taco Tuesday – a simple meal to get everyone fed fast in the midweek rush. From chicken and pork to steak and fish, and even a vegetarian taco, here are 10 taco recipes to serve up hot.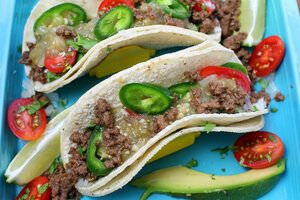 A Palatable Pastime
1.

Taqueria style tacos

Taqueria Style Tacos
Serves 4

1 pound lean ground beef
1 teaspoon ground coriander
1/2 teaspoon dried oregano
1/2 teaspoon black pepper
1/2 teaspoon garlic powder
1 teaspoon ground cumin
1/2 teaspoon onion powder
1 teaspoon seasoned Adobo or seasoned salt
1 teaspoon chili powder
16 soft corn tortillas
1/2 cup chopped fresh cilantro
1/2 cup minced white onion
2 limes, cut into wedges
green habanero sauce or salsa verde (optional)
cherry tomatoes, sliced hot peppers and sliced avocado (optional garnishes)

1. Brown ground beef in a large skillet, then drain off any fat in a sieve and return to pan.

2. Add seasonings and one cup water; bring to a boil, then reduce heat, cover and simmer for 30 minutes.

3. Uncover and continue to cook until any remaining water has dissipated.

4. Warm fresh corn tortillas briefly on a hot griddle just until pliable and soft, but not crisp.

5. Prepare tacos with a double layer of corn tortillas, a sprinkling of cilantro and onion, and hot taco sauce and a lime wedge to squeeze over the top.

See the full post on Stir It Up!