10 picnic ideas for the Fourth of July
It's time to get your basket and cooler packed and spread out on a blanket beneath the evening's fireworks. No picnic is complete without the classics – stuffed eggs, potato salad, watermelon, and iced tea. This Fourth of July, make those tried-and-true favorites pop with these 10 easy-to-pack recipes.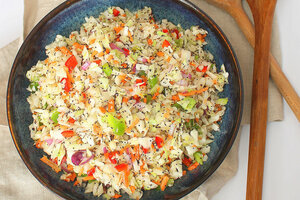 A Palatable Pastime
1.

No-mayo slaw with poppyseed dressing

By Sue Lau, A Palatable Pastime

No-mayo slaw with poppyseed dressing
Serves 4-6

For the slaw

16 ounces shredded cabbage or slaw mix
1/3 cup finely chopped grated carrot
1/2 cup chopped bell pepper (assorted colors)
1/4 cup minced red onion

For the poppyseed dressing

4 fluid ounces pineapple juice
4 fluid ounces white wine vinegar
2 fluid ounces honey
2 fluid ounces salad oil or olive oil
1 tablespoon organic poppy seeds
Salt and black pepper (to taste)

1. Stir together slaw ingredients.

2. Whisk together dressing ingredients except for oil, then while whisking the dressing, pour in oil in a thin stream. This helps to keep it from separating.

3. Toss slaw with dressing and chill several hours before serving.

See full post on Stir It Up!