15 blueberry recipes that'll make you feel anything but blue
Blueberries are one of the few fruits indigenous to North America. Closely related to the azalea, cranberry, and rhododendron, wild blueberries were gathered by native Americans and became a staple in the European colonists' diets. From the end of June through August it's the peak of blueberry season in many parts of the country, so why not make the most of it?
Despite its small size, the blueberry is a dynamo fruit and surefire culinary hit in your latest and greatest summer cooking adventures. Sure, there is something deliciously simple about eating handfuls of fresh blueberries straight from the carton. But if you want to "up your game" and give your favorite recipes a uniquely blue twist, keep reading— we've got a collection of recipes for you.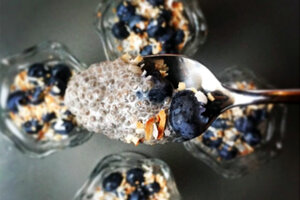 Whipped, The Blog
1.

Blueberry vanilla chia pudding

By Caroline Lubbers, Whipped, The Blog
Yields 4 snack size servings

2 cups unsweetened vanilla almond milk
1/2 cup chia seeds
2 teaspoons pure vanilla extract
1 tablespoon agave nectar or honey (add a second tablespoon if you like it sweeter)
Blueberries, for garnish

1. Stir together all ingredients.

2. Leave in the refrigerator overnight. Stir and serve plain or topped with fresh fruit, dried fruit or toasted coconut. It lasts in the refrigerator for at least 4 days. If it becomes thicker than you like, just stir in some additional milk.

See the full post on Stir It Up!