Easy recipes for kids
Whether the kids are home from school for the summer, it's a rainy afternoon, or you'd like to teach the children how to make their own after-school snacks, our collection of kid-friendly recipes is here to help.
Most of these recipes use fewer than six ingredients, making them easy to whip up. Even if you don't have kids running around, these recipes can make the perfect snack for anyone looking for a quick pick-me-up.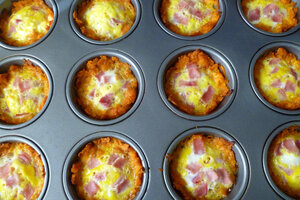 The Pastry Chef's Baking
1.

Sweet potato breakfast cups

Sweet potato breakfast cups

19-ounce package frozen sweet potato tots, thawed
1/2 cup lean diced ham
4 eggs
1 tablespoon milk

1. Preheat oven to 400 degrees F. Coat muffin tin cups with nonstick cooking spray.

2. Allow tots to thaw then place about 5-6 tots in each cup. Mash tots with back of spoon or small glass to form cup shape in muffin tin. Bake for 10 minutes.

3. Remove cups from oven and add diced ham. Lower oven temperature to 350 degrees F.

4. Mix eggs and milk until evenly combined, add salt and pepper as desired.

5. Divide egg mixture between muffin cups.

6. Bake cups for 15 minutes or until eggs are set.

See the full post on Stir It Up!