21 Zucchini recipes
As late summer days flow on so does the zucchini in the garden. Aside from stuffing the abundance in a neighbor's mailbox under the dark of night there are plenty of delicious ways to "hide" zucchini in anything from baked goods to pancakes to slow-simmered ratatouille. My personal favorite: chocolate zucchini cake.
Since our Stir It Up! bloggers love to follow and maximize seasonal trends we have an overflow of zucchini recipes to offer. After reading through these recipes maybe you'll be inspired to offer your neighbor a warm loaf of old-fashioned zucchini bread in broad daylight with a smile – and nothing to hide.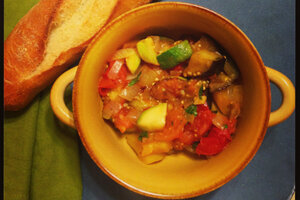 Kitchen Report
1.

Rustic ratatouille

By Kendra Nordin, Kitchen Report

Serves 4 to 6

2-4 tablespoons olive oil, divided
1 medium onion, sliced
2 gloves garlic, diced
3-4 tomatoes, chopped in quarters
1 bell pepper (red, yellow, or green) cored and sliced
1 eggplant, sliced into 1-inch discs and quartered
1 zucchini, sliced into coins
1/4 cup fresh basil, chopped
1 bay leaf
Salt and pepper, to taste

1. Preheat oven to 350 degrees F.

2. In a large pot like a Dutch oven heat 1-2 tablespoons of the olive oil and add the onion and garlic. Sautée until the onion becomes translucent. Add the tomatoes and bell pepper and simmer while you cook the eggplant and zucchini.

3. In a separate sauce pan, add the remaining olive oil and heat. Add the eggplant and zucchini and sautée until the vegetables become tender.

4. Add the eggplant and zucchini to the onion, tomato, pepper mixture and stir to combine. Add the fresh basil, bay leaf, salt, and pepper.

5. Cover and set in the oven for about 10 minutes to let the flavors combine.

Serve with crusty bread and maybe a sprinkling of Parmesan cheese.

See the full post on Stir It Up!