20 fresh corn recipes
The abundance of fresh corn in the summer is part of the season's true joys. While eating fresh corn on the cob with just a spread of butter and a sprinkle of salt is enough to satisfy there are plenty of other uses for fresh corn, too. You can make a broth for a base for soups, shave fresh kernels into salads, combine with spices into a griddle cake, and add smokey flavors by grilling ears of corn.
From soups to chowders to buttermilk biscuits, and even tips for freezing for future use, here are 20 recipes ideas for summer's abundance of fresh corn.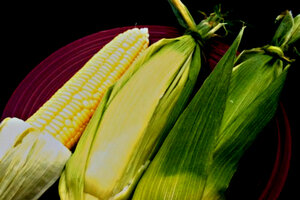 The Rowdy Chowgirl
1.

How to make corn broth

Save husks, silks, and cobs from 4-6 ears of corn. Discard any browned husks and silks. Cut cobs in half, and put everything into a large stock pot. Cover with water: approximately 8 cups. Bring to a boil, then reduce heat and simmer gently for about an hour and a half, or until broth is pale yellow and tastes like corn.

Remove from heat, let cool slightly, then strain through a colander into a large bowl. Press solids to remove as much broth as possible. Pour broth through a finer strainer to remove any last bits. You will have about 5-6 cups of broth, which can be refrigerated for a few days or frozen for a few months.

Read the full post on Stir It Up!