12 stir fry recipes
Stir fry is one of the most popular dishes to make, particularly among young adults, because it's so versatile. Ingredients can be mixed and matched according to taste, and combined to build new combinations. It's also one of the fastest dishes to throw together, perfect for weeknights or for when your fridge needs emptying out. Here are 12 stir fry recipes running the gamut from the familiar to the unexpected.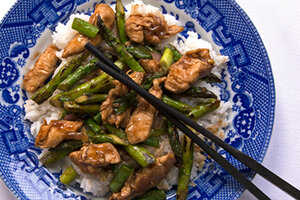 Blue Kitchen
1.

Stir-fried chicken with asparagus

By Terry Boyd, Blue Kitchen

Stir-fried Chicken with Asparagus

Serves 2 to 3

1 pound boneless chicken
1 egg white
1 tablespoon plus 2 teaspoons cornstarch
1 tablespoon rice wine (or dry white wine) [editor's note: can substitute cooking wine]
canola oil
salt
1 pound asparagus, tough ends removed, cut into 1 to 2 inch pieces
1 tablespoon minced fresh ginger
1/4 cup thinly sliced shallots
1 tablespoon minced garlic
2 scallions, the tips cut off, the rest cut into 1-inch pieces

For the sauce:

2 tablespoons soy sauce
2 tablespoons honey
2 tablespoons water
3 tablespoons lemon juice

white rice

1. Velvet the chicken. Slice it into small pieces (about 2" long and 1/2" wide). In a bowl, whisk together the egg white, 1 tablespoon cornstarch, wine and 1 tablespoon canola oil. Season the sliced chicken with salt, add it to the bowl and mix everything together with your hands. Refrigerate, covered, for half an hour.

2. In a skillet, combine 1 tablespoon of canola oil and enough water to reach 1" deep. Bring to a boil. Add the chicken and gently stir, then return to a boil. Reduce the heat and simmer for 90 seconds. Turn off the heat and, using a slotted spoon, transfer the chicken to a colander to drain. It is now cooked and ready. Set aside.

3. Start cooking the rice.

4. Meanwhile, make the sauce. Mix soy sauce, honey, water and fresh lemon juice in a small bowl. Set aside. Stir remaining 2 tablespoons of cornstarch into 1/4 cold water until dissolved. Set aside.

5. Heat 2 or 3 tablespoons canola oil in a clean skillet or a wok over a medium-high flame. When the pan is hot, add the asparagus all at once. Cook, stirring occasionally, about 4 minutes, then remove from the pan and transfer to a bowl.

6. Put another tablespoon or two of oil into the skillet/wok and heat to medium. Add the velvet chicken and sauté for about 90 seconds – you want it to start browning. Then add the ginger, shallots and garlic to the pan and stir and sauté everything for about another 90 seconds to two minutes. Add in the sauce; stir everything together. When it starts to heat up, add in the cornstarch and water and cook another minute or so until it is clear and beginning to thicken. Add in the asparagus and the cut scallions and stir just to heat everything through. Serve over cooked rice.

Read the full post on Stir It Up!