15 apple dessert recipes
If your counter tops are overflowing with freshly picked apples there's no better way to use them up than with apple desserts for fall. The naturally sweet flavor of apples cuts down on the need for added sugar and pairs beautifully with spices such as cinnamon and nutmeg. Either as a classic apple pie, an easy apple crumble, or even just baked apples stuffed with dried fruit you'll never get a refusal when you serve up a warm apple dessert – even better if it comes with a scoop of vanilla ice cream.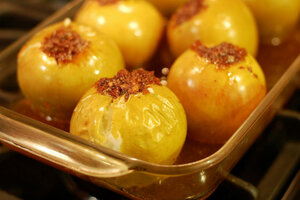 The Garden of Eating
1.

Baked Apples with candied ginger and toasted pecans

Serves 4

4 large, fresh baking apples (Rome, Golden Delicious, or Jonagold)
1/4 cup brown sugar
1 teaspoon ground cinnamon
1/8 teaspoon ground cloves
1/8 teaspoon ground nutmeg
1/4 cup chopped toasted pecans
2 tablespoons finely chopped crystallized ginger
1 tablespoons butter
A pinch of salt
3/4 cup apple cider (or water if you don't have cider)

1. Preheat the oven to 375 degrees F. Wash your apples then remove their cores to about 1/2 inch above the bottom of the apple. I used an apple corer in combination with a small, sharp paring knife – it was kind of messy/clumsy but worked. You should have a hole roughly an inch wide that does not go all the way through the apple.

2. In a small bowl, combine the sugar, cinnamon, ginger, cloves, nutmeg, salt and pecans. Place the apples in a small baking pan – you want one small enough to keep all the apples upright but not so small that they're crowded – they'll bake better if they're not touching. Stuff each apple with the filling mixture and top with a small pat of butter.

3. Add the cider (or water) to the baking dish and bake the apples for 30-40 minutes, taking them out several times to baste them with the cider in the bottom of the dish, until they are tender, but not mushy. Serve warm with vanilla ice cream.

Read the full post on Stir It Up!