7 recipes for green bean casserole for Thanksgiving
Whether you are looking for the classic Campbell's Soup version with cream of mushroom soup and crispy fried onions or alternatives for preparing a dish of green beans for your Thanksgiving table, here are seven different recipes to consider when planning your holiday menu.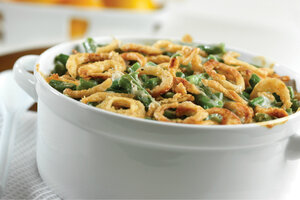 Business Wire
1.

Classic green bean casserole

Serves 8

1 10-3/4-ounce can condensed cream of mushroom soup
1/2 cup milk
1 teaspoon soy sauce or Worcestershire sauce
1/8 teaspoon freshly ground black pepper
2 16-ounce cans French-cut green beans, drained or 2 16-ounce packages frozen French-cut green beans, cooked and drained
1 2.8-ounce can French's Fried Onions

1. Preheat oven to 350 degrees F.

2. In a medium bowl, whisk the condensed soup, milk, soy sauce, and pepper until smooth. Stir in the beans and half of the onions.

3. Pour mixture into a 1-1/2 quart casserole dish. Bake for 25 minutes, uncovered until the mixture is hot and bubbling.

4. Stir well, top with the remaining onions, and bake for 5 minutes more, or until the onion topping is nicely browned.

Read the full post on Stir It Up!