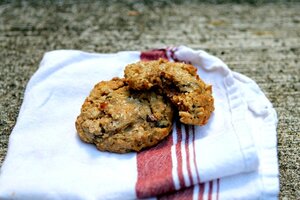 In Praise of Leftovers
I'm generally not a giant oatmeal cookie fan. I can be found, peering into the cookie case at any given bakery or cafe, stopping just short of asking the clerk to let me perform a biopsy on the poor cookie. When they're good, cookies are really good. When they're bad? A disappointing waste of calories. (Don't ever let this snottiness stop you from offering me a cookie from your kitchen. I adore eating other people's food, whatever else this blog might project.)
These cookies are EASY, as cookies should be, and depend on the high butter to oats ratio and watching them carefully so they don't overcook. If you're about to explode from all the people and details that need your attention, escape to a little corner, crouch down, and nibble one of these with an afternoon cup of coffee. It will be all right.
Oatmeal Coconut Chews
Makes about 3 dozen

Recommended:
National Lacy Oatmeal Cookie Day
3-1/2 cup old fashioned oats
1-1/2 cup flour
1 teaspoon cinnamon
1 teaspoon baking soda
1 teaspoon salt
2-1/2 sticks unsalted butter, softened
2/3 cup packed brown sugar
1/2 cup granulated sugar
2 large eggs
1 teaspoon vanilla extract
1 cup unsweetened coconut chips
3/4 cup raisins
3/4 cup dried cranberries
1/4 cup coarse bakers sugar
Preheat oven to 375 degrees F. and butter two baking sheets (or line with parchment).
Stir together oats, flour, cinnamon, baking soda, and salt in a large bowl.
Beat together butter, brown sugar, and granulated sugar in a large bowl at medium speed until fluffy, about 3 minutes. Add egg and vanilla and beat until well combined. Add oat mixture until almost combined, then add coconut, raisins, and dried cranberries.
Form dough into balls (1 heaping tablespoon) and dip tops in baking sugar. Place aout 2 inches apart on baking sheets and bake until golden and slightly underdone, 10-12 minutes. Let cool.
Related post: Peanut Butter Coconut Bars