Strawberry mint vinaigrette
(Read article summary)
Strawberries and mint combine to make a seasonal and refreshing dressing that can be used to sweeten spinach-based salads or enhance a fruit salad.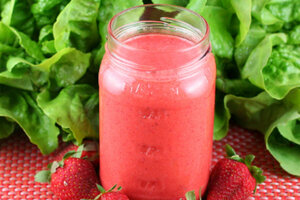 The Runaway Spoon
It's always nice to whip up a simple, homemade dressing for a salad, and this one is really special. A little sweet from the berries with the nice summery hit of mint. And it's a great way to use up some berries lingering in the fridge. 
I love it on a salad of fresh butter lettuce tossed with slice strawberries, salty feta or goat cheese, and crunchy pecans. It also goes well with spinach, and is a nice dressing for a fruit salad, too.
Strawberry mint vinaigrette

Recommended:
22 summer salads
Makes about 2 cups
8 ounces hulled strawberries
1 small shallot, peeled and quartered
6-7 fresh mint leaves
1/4 cup honey
1/4 cup white wine or champagne vinegar
2 tablespoons lemon juice
1/4 cup vegetable oil
Place everything but the oil in the carafe of a blender and blend until completely smooth. With the motor running, slowly drizzle in the oil until you have a nice, emulsified dressing.  Store the vinaigrette in a jar with a tight-fitting lid for up to three days in the fridge.  Shake well before using