Gardening teaches preschoolers about food
Thanks to a program organized by Mississippi State University, preschool children learn about where food comes from.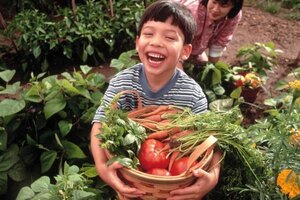 NEWSCOM
component of the program helps teach kids about where their food really comes from."
Editor's note: For more on gardening, see the Monitor's main gardening page, which offers articles on many gardening topics. Also, check out our blog archive and our RSS feed. You may want to visit Gardening With the Monitor on Flickr. Take part in the discussions and get answers to your gardening questions. If you join the group (it's free), you can upload your garden photos and enter our contests.