My favorite garden tool: A scanner
(Read article summary)
Scanners are the new trowels. They're great garden tools. You can create lasting 'arrangements' by scanning your favorite flowers, leaves, and fruits.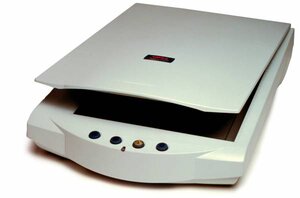 NEWSCOM
As i write this, it's been raining for days, after snowing for months, and so I ordered more seeds! Totally Tomatoes is having a sale on – can you believe it – Eva's Purple Ball, the most wonderful tomato in the universe! This made me think about last summer and one of the best garden tools I used … my flatbed scanner.
Flatbed scanners are not costly as equipment goes. I bought this one to work on a family history for a friend, and it has beautifully scanned many photos and slides over the past few years. I chose the Epson V500 Photo scanner because many of my friend's photos were in frames and the top lid adjusts for bulky items. Also, it was affordable.
What does this have to do with gardening and garden tools?
Because the scanner's lid can be adjusted upward, I can scan flowers, fruit, and other 3-D items. I started with my favorite daffodils, 'Professor Einstein,' and the beautiful emerging leaves of 'Goldflame' spirea. The results weren't exactly wha tI was hoping for, though.
I put the top lid down and sadly, the background was white and looked like a scanned picture. Later, I would gain some scanner finesse.
I walked around the garden on any given day, picking up blossoms and beautiful leaves, plants blooming at the same time, and scan them into a picture I can save.
Early summer brought the flowers of Hesperis (dame's rocket), a rose (Ghislaine de Feligonde – I bought it for the name), 'Goldflame' honeysuckle, the Buck rose 'Winter Sunset,' and leaves from the variegated tree Viburnum lantana.
By this time, I had learned to just leave the lid up on the scanner and get a black-ish background , which is much more attractive.
Well into this form of entertainment by July, I composed a picture for my friends as a Fourth of July greeting. It contained a sparse crop of blueberries, the variegated leaves of the aralia, Eleutherococcus, gooseneck loosestrife, St. John's wort, hosta flowers, and Verbena bonariensis, along with a delicious gladiolus.
As the PG hydrangea began blooming, I took a summer picture. Beautiful green Hydrangea arborescens 'Annabelle,' the starchy white of the PG hydrangea, the long-blooming Chinese abelia, and my double pink Rose of Sharon.
What I want to remember about this phase of the garden is that the pink, white, and green flowers need something with snap to brighten the group.
In late summer the sunflower was in full bloom, with unripe Concord grapes, ripe berries from the viburnum, the charming butterfly magnet anise hyssop, and still, Verbena bonariensis.
The last of the 2009 scans was surprising. I hadn't noticed in earlier years that the leaves of the gooseneck loosestrife were so colorful. The deep purple flowers of the annual Salvia guarnitica brought a beautiful contrast to the scan, and again the 'Goldflame' native honeysuckle was full of flowers.
The 'Ballerina' rose was having a fling, and the leaves of the 'Goldflame' spirea had again illuminated the garden with bronze, red, and gold. One blossom was left on Nicotiana sylvestris.
That scan was taken on Thanksgiving weekend, before the lovely winter that felt straight from North Dakota hit. I actually still had a basil plant in leaf on December 5. Who knew?
[Editor's note: Click through all six of the photos at left to see the scans that Donna mentions.)
Some of the recipients of these e-mailed scans enjoyed them so much that I had note cards made up with some of their favorites for Christmas gifts . It was fun, gave me a visual record of the summer blooming sequence, and alerted me that one particular stretch of the summer needs more pizzazz.
Good gardening tool!
Try this for yourself. You may need to Photoshop some of the critters that walk across the picture unexpectedly and pollen will drift onto the flatbed. Still, it's more fun than you might think.
Donna Williamson is one of nine garden writers who blog weekly at Diggin' It. She's a master gardener, garden designer, and garden coach. She has taught gardening and design classes at the State Arboretum of Virginia, Oatlands in Leesburg, and Shenandoah University. She's also the founder and editor of Grandiflora Mid-Atlantic Gardening magazine, and the author of "The Virginia Gardener's Companion: An Insider's Guide to Low Maintenance Gardening in Virginia." She lives in the Shenandoah Valley of Virginia.
-----
To read more by Donna, click here. The Monitor's main gardening page offers articles on many gardening topics. Access all our blog posts here (keep scrolling down to read more), If you don't want to miss any of our gardening coverage, consider subscribing to the RSS feed of the gardening page and the RSS feed of Diggin' It. Do visit Gardening With the Monitor on Flickr. Take part in the discussions and get answers to your gardening questions. If you join the group (it's free), you can upload your garden photos and enter our next contest.