Pia Toscano scores record deal, releases single
Pia Toscano, beloved by American Idol fans, is releasing her first single on July 12, and will release an album with Interscope Records later this year.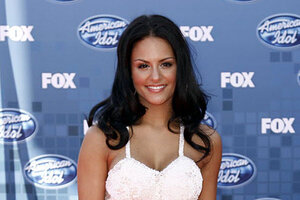 Matt Sayles/AP/File
``American Idol'' contestant Pia Toscano, whose early exit from the TV show shocked viewers, has signed a record deal with Interscope Records, the company said Wednesday.
The 22 year-old Toscano, with her dark hair and powerful singing voice, was considered one of the front-runners for the top prize on ``Idol'' this year. But she was voted off by viewers to finish in 9th place.
Toscano will release her debut single ``This Time'' -- described as an acoustic guitar and beat-driven track -- on July 12, said Interscope Records. She will release her first album later this year.
Toscano described the record deal as ``a dream come true''.
This year's ``Idol'' winner was deep-voiced country singer Scotty McCreery, a former grocery store clerk.