Superman and Batman to join forces?
Superman and Batman will co-headline a new comic from DC Entertainment. The series, scheduled to debut in June, will invent a new history for Superman and Batman.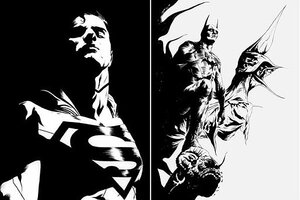 DC Entertainment/AP
DC Entertainment says it will unveil a new ongoing series focusing on Superman andBatman, two of the publisher's best-known and revered heroes.
"Batman/Superman" is set to debut in June and will be written Greg Pak and illustrated by Jae Lee. It will focus on how the two iconic heroes first met in the publisher's relaunched universe, dubbed The New 52.
Pak says DC is giving he and Lee "some real leeway to do some really important storytelling" in the series that will give readers the opportunity to delve deep into the characters, their interaction and the effects on the wider New 52 universe.
The two characters have been a part of DC since the late 1930s.
___
DC Comics is owned by Time Warner Inc.
___
Online:
http://www.dccomics.com