Youth in Revolt: movie review
'Youth in Revolt' brings C.D Payne's books to the big screen.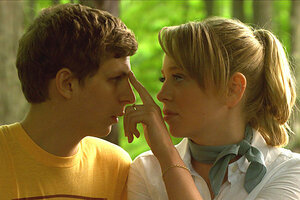 Chuy Chavez/The Weinstein Co./AP
Not being an aficionado of C.D. Payne's six-part book series "Youth In Revolt," I'm probably not the best judge of this movie, of the same name, starring Michael Cera. Actually, only the first three volumes are in the movie, so, for better or for worse, there's more where this came from. Cera plays the Dickensian-named Nick Twisp, a virginal adolescent enamored of Sheeni (Portia Doubleday), a been-around girl he meets while vacationing with his family in a trailer park. Many first-rate character actors – including Steve Buscemi, Mary Kay Place, Fred Willard, and Ray Liotta – put in appearances, and Cera, despite the fact that he's playing this callow character for the umpteenth time, is charming. (He also plays Nick's Lothario alter ego). Completed more than a year ago, "Youth in Revolt" is just sweet enough to avoid being negligible.