The Eclipse: movie review
In 'The Eclipse,' a widower finds romance with a visiting writer but feels haunted by his wife's memory – and ghosts.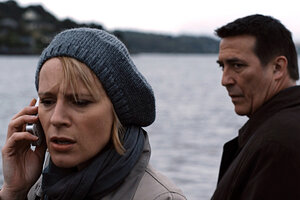 Magnolia Pictures/AP
In a quaint town on the Irish coast, teacher Michael Farr (Ciarán Hinds) helps out at the town's annual literary festival. For the first time since his wife's death two years earlier, he feels inklings of romantic potential, in the person of Lena (Iben Hjejle), one of the visiting writers. Part of their connection is that she writes nonfiction books about ghosts and he's haunted – figuratively, by the memory of his wife, and literally, by the ghost of his father-in-law, who hasn't even died yet.
In "The Eclipse," director/co-writer Conor McPherson manages to create a genuinely creepy atmosphere for much of the film, as well as provide a few jump-in-your-seat shocks. But McPherson isn't really interested in making a horror film; he's merely using the genre's tropes as part of an adult romance about accepting tragedy and moving on. As a result, the energy slacks off in the final third. It's a bit like "The Sixth Sense" – but without any of the mystery. Grade: C (Rated R for language and some disturbing images.)