Life During Wartime: movie review
A sequel of sorts to Todd Solondz's controversial 1998 film 'Happiness,' 'Life During Wartime' returns to the characters' lives a decade later, but with a whole new cast.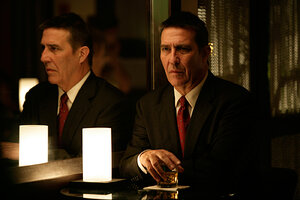 Francisco Roman/IFC Films/AP
In 1998 writer-director Todd Solondz made "Happiness," a cult favorite about family dysfunctionality that featured, at its most startling, a pedophile played by Dylan Baker. "Life During Wartime" is a sequel of sorts – a recounting, more than a decade later, of the characters' lives from that first film. This time, however, all new actors fill the roles.
Not having been a big admirer of "Happiness," I don't see the vast achievement in bringing that movie up to date, but a few of the performances and sequences resonate. The pedophile, now out of prison, is played by Ciarán Hinds, who is quite good. His former wife is played by Allison Janney, who manages to make even Solondz's most off-kilter musings seem level-headed.
But a little of Solondz's deadpan creepiness goes a long way with me. "Life During Wartime" is about how people are not what they seem to be, but most of its characters aren't rich enough to exhibit single, let alone double, lives. Grade: B- (Unrated.)
More movie reviews