Waste Land: movie review
The documentary 'Waste Land' takes us through Rio's largest landfill and into the lives of garbage pickers as a Brazilian expat seeks to raise their spirits through art.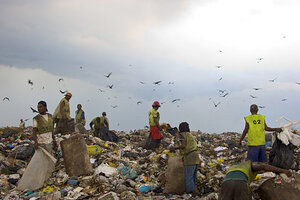 Newscom/File
Brazil's Jardim Gramacho, on the north edge of Rio de Janeiro's Guanabara Bay, is the largest landfill in the world, receiving about 7,000 tons of garbage daily. This might not seem like the ideal location for a movie about the redemptive power of beauty, but "Waste Land," a documentary directed by Lucy Walker, makes a good case for it.
She focuses on Vik Muniz, an acclaimed artist from Brooklyn who grew up in the Brazilian slums and is returning home to create conceptual art drawn from the lives of the "catadores" – self-appointed pickers of recyclable materials.
Despite his street cred, Muniz comes across as way too effete for these laborerers, many of whom have harrowing life stories to tell. But his intention to have them re-create photographic images of themselves out of garbage, while it may not pass muster as high art, has the effect of raising their spirits. At least for a while, their lives, and ours, have been transformed. Grade: B+ (Unrated.)
More Monitor movie reviews