Wild Target: movie review
Emily Blunt stars in 'Wild Target,' a black comedy based on a French farce that doesn't mix well with English gooniness.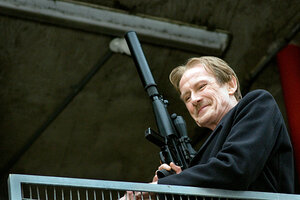 Nick Wall Photography/Freestyle Releasing/AP
If comedy, as the comedians say, is not pretty, then black comedy is downright ugly.
"Wild Target," starring Bill Nighy as a repressed hit man and Emily Blunt as the sexy free spirit he can't find it in himself to eradicate, is practically a text book in how ugly things can get when you don't have the right, light touch for this sort of thing.
Nighy's Victor was literally raised from the cradle by his hit-man father to follow in the profession. His doting, controlling mother (Eileen Atkins) keeps a scrapbook of newspaper clippings of his high-profile hits. All this explains why Victor doesn't have very good people skills.
Director Jonathan Lynn and screenwriter Lucinda Coxon have adapted Pierre Salvadori's "Cible Emouvante," which is described in the film's production notes as a "classic French comedy" – although I've never heard of it – and perhaps this is the core problem. French farce doesn't mix well with English gooniness. Grade: C (Rated PG-13 for violence, some sexual content, and brief strong language.)
More Monitor movie reviews