Bhutto: movie review
Documentary 'Bhutto' elucidates Pakistan's knotty politics.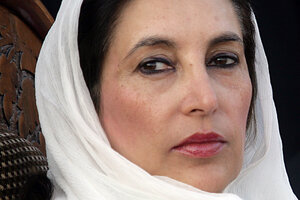 Newscom/File
Duane Baughman's and Johnny O'Hara's fascinating documentary about Benazir Bhutto, the first woman ever elected to lead a Muslim state – Pakistan – is crammed with archival footage and often confrontational and contradictory interviews with Ms. Bhutto's family and friends. [Editor's note: The original version omitted one of the filmmakers' names.]
Baughman and O'Hara don't attempt to untangle the dangerously knotty politics of Pakistan. Instead, they elucidate the confusion.
Benazir's father, Zulfikar Ali Bhutto, was Pakistan's first democratically elected president. Benazir, educated at Harvard and Oxford, was his handpicked successor. Like her father, she met with a violent, politically motivated death.
The Bhutto family is often referred to as the "Pakistani Kennedys." After seeing this film, that designation doesn't sound so glib anymore. Grade: B+ (Unrated.)
More Monitor movie reviews