Silent Souls: movie review
'Silent Souls' is a nice change from fast-paced Hollywood, but moves a little too slowly.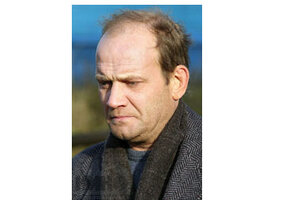 ITAR-TASS Itar-Tass Photos/Newscom
One of the complaints I have about Hollywood movies is that they no longer take the time to settle into a mood. Situations, images, characters are, often literally, thrown at us. It's as if the movies were designed to be viewed in fast-forward mode.
From the sound of it, the acclaimed Russian film "Silent Souls," directed by Alexsei Fedorchenko, seemed like a good antidote to all this hoopla. Set in the small town of Neya, it's about two men, Aist (Igor Sergeyev) and Miron (Yuri Tsurilo), who accompany each other on a ritualistic journey to cremate Miron's young wife, who has just died, in a sacred lake according to the tribal culture of the Merjans, an ancient Finno-Ugric clan that predates the Russians.
Much of the film is wordless, and apparently some of the Merjan ritualism is a concoction of the filmmakers. There's a trancelike quality to its best moments, but too much of it is artfully boring. "Silent Souls" is at the opposite extreme from Hollywood – it's all mood. Be careful what you wish for. Grade: B- (Unrated.)