Hugh Jackman in 'Real Steel': movie review
Hugh Jackman stars in the futuristic action movie 'Real Steel.' The film borrows heavily, and predictably, from 'Rocky' and 'Transformers' franchises.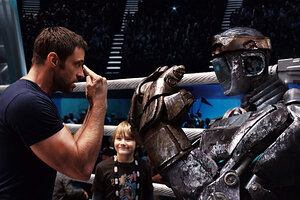 DreamWorks II/Disney/AP
Based on a story by Richard Matheson, "Real Steel" is set in a sci-fi near future where robots have replaced humans as boxers, presumably because humans could no longer endure the mash-up thrills that audiences crave.
Washed-up former boxer Charlie Kenton (Hugh Jackman) hasn't had much luck "managing" a string of beat-up bots until he hits it big with Atom, a sparring partner machine that improbably becomes a champion contender.
The prime mover in all this is Charlie's 11-year-old son, Max (Dakota Goyo), whom he did not raise and barely knows. Stubborn and gruff, they bond.
Even this little bit of plot synopsis should be enough to alert you to the many movies "Real Steel" draws on – "Rocky," "Star Wars," "Transformers," "The Champ," "Seabiscuit." I could go on.
They should call this overloud, underwhelming movie "Real Steal."
Grade: C (Rated PG-13 for some violence, intense action, and brief language.)