Haywire: movie review
An assassin on the run seeks payback in 'Haywire,' an action thriller will little else going on but brutal encounters.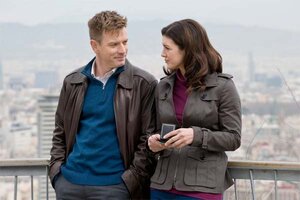 Claudette Barius/HOEP/Relativity Media/AP
Steven Soderbergh's thriller "Haywire," scripted by Lem Dobbs, is taut almost to the point of abstraction. Real-life mixed martial artist champ Gina Carano stars as Mallory Kane, an assassin on the run from, or in pursuit of, a bevy of nasties played by a stellar assortment of actors, including Ewan McGregor, Antonio Banderas, Channing Tatum, and Michael Fassbender.
The almost contortionist ways in which Mallory ultimately dispatches her foes are shocking, abrupt, and brutal. In between bouts, the action is mostly fancy filler. This is an action movie for people who like their thrills with a side order of existential. Grade: B (Rated R for some violence.)