King of Devil's Island: movie review (+trailer)
Norwegian film 'King of Devil's Island' is a predictable prison-movie set at a brutally run boys' reform school.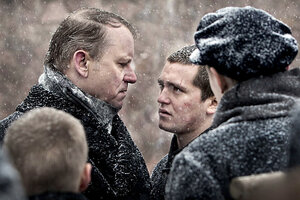 Film Movement
In 1915, two new inmates arrive at a boys' reformatory located on an isolated island and cruelly run by the pious, self-righteous warden (Stellan Skarsgård, in a major supporting role). One of the newbies (Magnus Langlete) is weak and needy; the other (Benjamin Helstad), a born leader, is the exact opposite. His refusal to simply go along with the abuse (of several kinds) helps spark a rebellion. 
The actual Devil's Island is nowhere in sight in Norwegian director Marius Holst's 2010 film about events at the real-world Bastoy Boys' Home. The original title translates as "King of Bastoy," but since few (if any) outside Norway will recognize the name, "Devil's Island" has been pressed into duty as a surrogate.
As it stands, the title conjures memories of the 1933 Warner Bros. production "The Mayor of Hell"; and so does nearly everything else. Maybe the Warners film was inspired by transatlantic news of the real events; but the familiarity of the story is likelier a sign of how worn prison-movie conventions have become. (There's a bit of "Cool Hand Luke" here, as well.) For the first half, the pacing is slow and unfocused; the second half is more engrossing but still entirely predictable. Grade: C+ (Unrated.)