Six 3-D re-releases coming to theaters
After the massive success of Disney's 3-D re-releases of "The Lion King" and "Beauty and the Beast," Hollywood is taking note that audiences are willing to go see beloved films at their local cineplex. Of course, some 3-D re-releases have been planned since before Disney dominated the box office with its classics. The first installment in director George Lucas's Star Wars sextet, "The Phantom Menace," hits theaters this weekend, and Lucas plans on releasing the other five the same way. Here are six 3-D re-releases coming up that will bring familiar characters back to the cinema.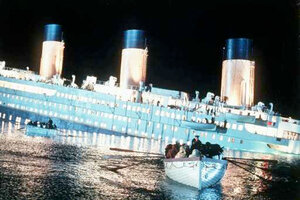 1.

'Titanic'

James Cameron's 1997 film about the doomed ocean liner will be re-released in 3-D on April 2, 2012. Cameron has said that the date is designed to coincide with the hundredth anniversary of the Titanic's sinking, which occurred in the early morning hours of April 15. When Cameron was doing research for the film, he dove down to the wreck of the ship and spent so much time doing so that it was noted he spent more time "on the ship" than its actual passengers.