The Raid: Redemption: movie review
'Raid' has extraordinary stunt and fight work and nonstop excitement.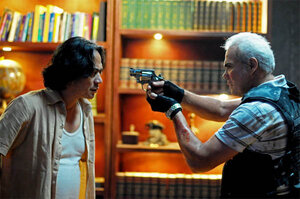 Akhirwan Nurhaidir/Sony Pictures Classics/AP
It's probably safe to say that Gareth Huw Evans is currently the greatest Welsh director of Indonesian action films. In his second such outing (and third feature overall), a SWAT team is sent on a suicide mission to extricate a crime boss (Ray Sahetaphy) from the 15-story urban apartment building that serves as his headquarters. When the squad's head (Joe Taslim) is killed,a rookie (Iko Uwais, who also served as fight choreographer) has to lead his guys through 14 video-monitored floors filled with murderous thugs.
The plot setup is in the vein of "Assault on Precinct 13" and "Die Hard" (among many others), but plot is hardly the point. "The Raid: Redemption" is about fights, fights, and more fights; the characters shoot, stab, punch, and kick each other in apartments and corridors, through ceilings and walls, up and down stairs. Evans piles action sequence on action sequence, with an absolute minimum of down time. There's a lot of shooting, but the movie's heart lies in the escalating hand-to-hand-to-foot martial arts battles.
Extraordinary stunt and fight work and nonstop excitement, but a warning to those who are at all squeamish: this may be the most violent movie I've ever seen. Grade: A- (Rated R for strong brutal bloody violence throughout, and language.)