'The Three Stooges': 5 other movies bringing back popular stories
"The Three Stooges" comes to theaters this Friday with lots of pratfalls, and it's not the only movie that's bringing back beloved characters and stories after long absences (for pop culture, anyway). Whether you're a baby-boomer who never missed "Dark Shadows" on TV to a Gen Y-er who watched "Men in Black" over and over, this coming year will see the return of many much-missed stories.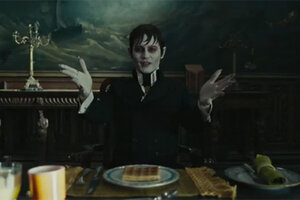 1.

'Dark Shadows'

The original soap opera, starring actor Jonathan Frid as vampire Barnabas Collins, ran from 1966 to 1971 and was a daytime staple for kids who ran home from school to watch the next installment. The TV series was resurrected briefly in 1991, with "Star Trek" actor Ben Cross as the vampire and a young Joseph Gordon-Levitt as David Collins. This time, Barnabas and his family are coming to the big screen in a feature film directed by Tim Burton and starring Johnny Depp as the vampire suddenly transplanted to present day. If the trailer is anything to go by, the film version will be an affectionate send-up of the TV show. It's scheduled for release May 11.