'Stoker' employs cinematic tricks that don't impress
'Stoker' centers on precocious India Stoker (Mia Wasikowska), who is unnaturally fixated on her mysterious uncle.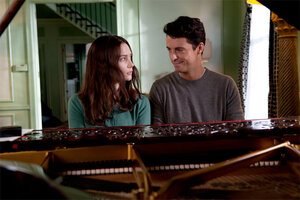 Macall Polay/Fox Searchlight Pictures/AP
No, "Stoker" isn't about vampires, although, from a commercial standpoint, it might be better if it were. Directed by South Korean auteur Park Chan-wook in his English-language debut, it's an overweeningly stylish horror fantasia about India Stoker (Mia Wasikowska), a precocious high schooler with an unnatural fixation on her unnatural uncle Charlie (Matthew Goode). Her father recently died mysteriously and her mother, Evelyn (Nicole Kidman), has allowed Charlie to reside indefinitely in their expansive homestead. Evelyn appears to be just about as ga-ga as Charlie – neither of them blink a lot – but India turns out to be just about as wacko. She doesn't blink much, either.
Park employs all manner of cinematic derring-do – shock cuts, off-kilter compositions, discontinuous storytelling – all to no great purpose other than to make us go "Wow." A more appropriate response might be, "Huh?" Grade: C (Rated R for disturbing violent and sexual content.)