'Beyond the Hills' follows two women's broken relationship
'Beyond,' a movie by Romanian director Cristian Mungiu, is at times unnecessarily repetitive.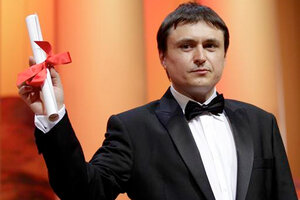 AP
The great Romanian director Cristian Mungiu is best known for "4 Months, 3 Weeks, and 2 Days," a harrowing masterpiece about abortion and the bond between two female friends. His follow-up film, "Beyond the Hills," also focuses on two women: Voichita (Cosmina Stratan), a nun in a remote Romanian Orthodox monastery, and Alina (Cristina Flutur), her childhood best friend and former orphanage roommate, who visits Voichita after a prolonged stay in Germany. It soon becomes clear that the two women had been lovers and that Voichita, resolutely devout, has no intention of going back to her old ways. This revelation unhinges Alina, who has no use for religion.
Mungiu shoots in extended, unbroken sequences, and the asceticism of his style at times mirrors the life he is showing us. The movie is a series of longueurs that don't add up to a grand design – at 2-1/2 hours, it's unnecessarily repetitive – but it has moments when the spiritual and the secular burst forth in stunning disarray. Grade: B (Unrated.)