'Oz The Great and Powerful' is less than magical
'Oz The Great and Powerful'' features an affable James Franco and radiant Michelle Williams, but its Wizard-origin story drags.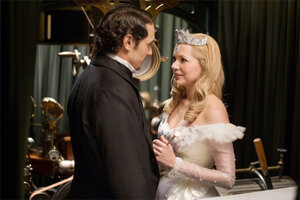 Merie Weismiller Wallace/Disney Enterprises/AP
"Oz The Great and Powerful" is the latest in a seemingly endless stream of Hollywood fairy-tale redos. It's a bit better than "Jack the Giant Slayer," but not by much. Directed by Sam Raimi, it's a prequel to "The Wizard of Oz" that attempts to answer the question, "How did the wizard become the wizard?"
In this version, our wizard started out as Oscar Diggs (James Franco), a small-time Kansas carnival magician who is whisked via hot air balloom into the Land of Oz, where, as imagined by Raimi and screenwriters Mitchell Kapner and David Lindsay-Abaire, he encounters not one but three witches: Theodora (Mila Kunis), Evanora (Rachel Weisz), and Glinda (Michelle Williams). Glinda, of course, is good – or, to be precise, Good.
Franco is affable and helps tone down the film's overly bright and overscaled production values. (The 3-D is passable). Williams is radiant without being sappy. It's nice to see Munchkins again, not to mention Quadlings. But long stretches of "Oz" are lumbering and inspiration-free. (Also Dorothy-free.) I'm no fan of "Wicked," the musical "Oz" prequel, but at least it had some big-time energy going for it. Raimi's film is supposed to be about magic, but magic is in scant supply. Grade: C+ (Rated PG for sequences of action and scary images, and brief mild language.)