'Only Lovers Left Alive' is a languorous vampire tale
'Lovers' stars Tom Hiddleston and Tilda Swinton as two vampires.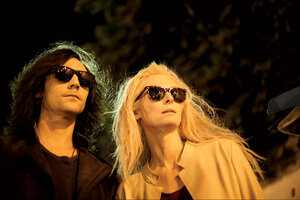 Sony Pictures Classics
With "Only Lovers Left Alive," Jim Jarmusch has made a vampire movie, but, as you might expect, not just any old vampire movie. "Twilight" fans will not be amused, but Jarmusch's usual coterie of art-film followers will likely find the movie his best in years.
I've always been partial to Jarmusch's cooled-out slow-burn lyricism, maybe because, compared with the freneticism of most movies these days, his languor is a tonic. In "Only Lovers Left Alive," Tom Hiddleston and Tilda Swinton play characters named Adam and Eve, who have perpetuated the longest love affair in the world. Somnolent Adam has been holed up in Detroit playing vinyl oldies and collecting vintage guitars; Eve has been traipsing through Tangier, where her best friend, Christopher Marlowe (John Hurt), has access to a diminishing supply of pure blood.
The conceit here is that the human blood supply has become so contaminated that, well, what's a poor vampire to do? Jarmusch doesn't play this up for laughs, let alone suspense. It's just a fact of life – or, to be more exact, un-life. Hiddleston is appropriately soggy in a Byronic kind of way, and Swinton, in a platinum-blond wig, gives the ultimate Tilda Swinton performance as a poetically famished vampiress. Has she ever, I wonder, played a character with a suntan? Grade: B (Rated R for language and brief nudity.)