The 25 best science fiction movies of all time
People have always dreamed of worlds beyond their own, wondered if there was anyone looking back when they looked up at the sky, and worried about what world their children would inhabit. Directors and writers from George Lucas to Arthur C. Clarke and Stanley Kubrick to Steven Spielberg have imagined what Earth will be like in the future and what else might be out there in the universe.
So what are the best sci-fi movies ever released? Monitor staff worked to create a list that we think reflects the best of the genre. Do you agree with our picks and what movie we chose to take the top prize? Let us know!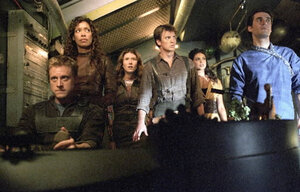 Universal Pictures
25.

'Serenity'

Joss Whedon's 2005 film is based off one of the most-mourned canceled TV shows ever, the Fox show "Firefly." Whedon's story follows the crew of the spaceship Serenity, veterans on the wrong side of a recent war who must now take illegal smuggling jobs to survive, led by their captain, Malcolm Reynolds (Nathan Fillion). Since this is a Joss Whedon movie, every character gets a quip; viewers are left wanting to know even more about his fictional universe, where characteristics of the Old West and Chinese culture exist side by side.

According to the Los Angeles Times, the ship was built for the movie using pictures of the original ship from the DVDs of the Fox TV show as a guide.