'Avengers: Age of Ultron' is semi-enjoyable but not as good as the first
The plot in 'Ultron' is essentially one catastrophe after another and the Avengers' attempts at wisecracks aren't all that smart.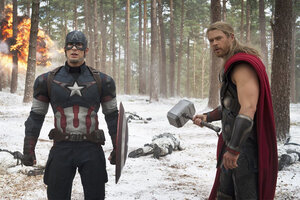 Jay Maidment/Disney/Marvel/AP
"The Avengers" was the third-highest-grossing film of all time, and I don't doubt that "Avengers: Age of Ultron," which is semi-enjoyable but not as good, will also ascend the higher reaches of moola. Such is the megapopularity of this Marvel superhero franchise that the filmmakers could have featured the clan playing dodgeball and achieved a similar success.
There's quite a bit more than dodgeball going on in "Ultron," to the point of literal overkill. All the stalwarts, looking as fit as usual, are back: Clint Barton/Hawkeye (Jeremy Renner), Tony Stark/Iron Man (Robert Downey, Jr.), Steve Rogers/Captain America (Chris Evans), Bruce Banner/The Hulk (Mark Ruffalo), Natasha/Black Widow (Scarlett Johansson), and Thor (Chris Hemsworth). Their nemesis is Ultron (voiced with snide amusement by James Spader), a state-of-the-art humanoid who, of course, wants to take over the world and unload a new race of mass-produced android soldiers. 
Writer-director Joss Whedon attempts to inject just enough human drama into these noisy proceedings to keep it from turning into a "Transformers"-style crashathon. (Best subplot: Black Widow and The Hulk get closer, but no smooches.) The action sequences aren't especially well designed, and the plot, such as it is, is essentially one catastrophe after another. The Avengers' attempts at smarty-pants wisecracks aren't all that smart. And yet none of this probably matters to the film's geekish fan base, who are already slavering for sequels. Grade: B- (Rated PG-13 for intense sequences of sci-fi action, violence and destruction, and for some suggestive comments.)