'Mission: Impossible – Rogue Nation' makes the audience feel for the characters
'Rogue' is underwhelming compared to its predecessor 'Mission: Impossible – Ghost Protocol,' but writer-director Christopher McQuarrie is good at interpersonal stuff.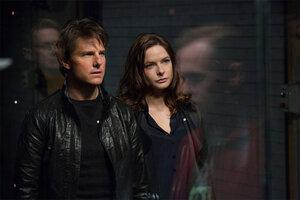 David James/Paramount Pictures/AP
One of the big problems with action movie franchises is that they have to keep topping the "wow!" factor of each preceding film. Inevitably things level off. This is what seems to have happened in "Mission: Impossible – Rogue Nation," which, in terms of the high bar set by Brad Bird's "Ghost Protocol," its immediate predecessor, is underwhelming. But writer-director Christopher McQuarrie, whose action movie skills are at best high-adequate, compensates by being good at interpersonal stuff. He can make us feel for the characters as something more than action toys.
At 53, Tom Cruise, reprising his role as Ethan Hunt, is almost alarmingly spry (and appears to be doing many of his stunts). The IMF has been shut down by the CIA (headed by Alec Baldwin in prime surly mode) and Ethan, eluding the agency's dragnet, is on a worldwide undercover mission to uncover the nefarious Syndicate, a power-mad organization the CIA does not even believe exists. 
Joining Ethan are his partners from the last film, Brandt (Jeremy Renner) and Benji (Simon Pegg), along with basso profondo Ving Rhames, but the most interesting addition to the corps is Ilsa Faust (Rebecca Ferguson), a fearsome agent who may or may not be working for the Syndicate. In the film's best extended sequence, set in Morocco, Ethan must dislodge a top-secret computer chip from an underwater lair while holding his breath for more than three minutes. Ilsa comes to the rescue – or does she? (A recurring motif from Puccini's "Turandot" on the soundtrack pointedly intrudes whenever these two get googly-eyed.)
The requisite car and motorcycle chases are all here, and the Syndicate's chief, played by Sean Harris, is appropriately reptilian.  Once you accept the fact that "Rogue Nation" is not going to be the wingding of the franchise, it becomes a lot easier to enjoy. Grade: B- (Rated PG-13 for sequences of action and violence, and brief partial nudity.)​