'Toni Erdmann' is fitfully sharp and amusing
'Toni' stars Sandra Hüller as a German corporate strategist and Peter Simonischek as her father, a grade-school teacher who enjoys escapades like startling people with ghoulish makeup.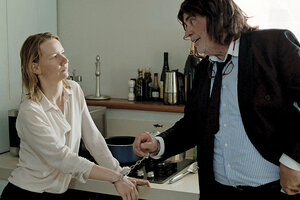 Sony Pictures Classics/AP
Writer-director Maren Ade's "Toni Erdmann" is that rarest of species, a German comedy, which may account for its overpraise on the film festival circuit. Weighing in at well over two hours, it's an attenuated jest about Ines (Sandra Hüller), a German corporate strategist based in Bucharest, Romania, and her daffy father, Winfried (a fine Peter Simonischek), a grade-school teacher who likes to apply ghoulish makeup and false fangs and startle people.
Of course, his escapades aren't just for fun – he's supposed to be the life force who shocks his daughter out of her corporate complacencies. It's all fitfully sharp and amusing but hardly a masterpiece. Grade: B- (Rated R for strong sexual content, graphic nudity, language, and brief drug use.)