Shaquille O'Neal: A cultural crossover of hoops and holiday music (VIDEO)
Shaquille O'Neal conducted the Boston Pops Monday night during one of the orchestra's annual holiday concerts. For a big man, Shaquille O'Neal shows a deft touch with the baton.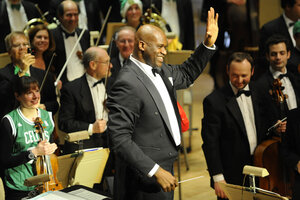 Gretchen Ertl/AP Photo
Boston Celtics center Shaquille O'Neal was working in a slightly different arena Monday night - Symphony Hall in Boston, where he helped conduct the Boston Pops in one of their traditional holiday concerts.
Boston Pops conductor Keith Lockhart got the assist as he handed off the baton to O'Neal, who's starred in such cinematic vehicles as 'Kazaam,' 'Blue Chips,' and 'Steel.' "The Big Shamrock," as he's sometimes referred to, definitely looked the part in black tails.
Before his guest performance, O'Neal reportedly said "I have a whole new respect for conductors," adding, "I went through a rehearsal today, and my arms are shot right now."
O'Neal conducted the classic rock song by Queen, "We Are the Champions."
The Boston Pops holiday concerts continue through the end of the year.