Javascript is disabled. Quiz scoring requires Javascript.
Taylor Swift: How well do you know her songs?
During her careeer, singer Taylor Swift has sold millions of albums and picked up multiple honors such as Grammy and Billboard Music Awards. Her music videos also attract millions of views and every tweet and Instagram post from the singer garners attention. Swift herself expressed how impressed she was with how quickly her fans learn the lyrics to her songs, remembering how she played songs off her 2012 album "Red" for a performance at the BBC Teen Awards. "['Red'] had been out for four days," Swift said, according to her label Big Machine Records. "It was crazy how many people in the crowd knew every word. It's insane."
Are you one of those fans who can spout every lyric? Test your knowledge!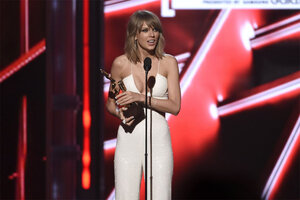 Chris Pizzello/Invision/AP
1.

What is the name of the boy Swift is singing about in 'Teardrops on My Guitar'?