Point of view: All in a dare
A Monitor photographer is challenged to take a picture on his subject's terms.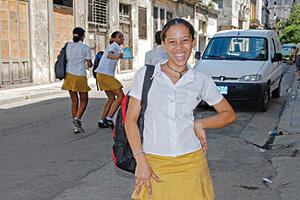 Alfredo Sosa
Walking down the streets of Havana, I was in heaven. Wherever I looked, I saw a potential photo. Pretty soon, this embarrassment of visual riches made me extremely selective about what to shoot. What made the cut the first day would not pass muster a few days later.
Although excited, I was uncomfortable. I was all too aware of partaking so freely of all the visual treasure, the only wealth this impoverished island nation has. But then this young student turned the tables on me. As I walked behind her group, pondering the photo I would take, she suddenly turned and struck this pose as if to say, "I dare you!" She has stayed in my mind because she empowered herself. She made me photograph her on her own terms.