Clinton Bush Haiti Fund bridges three modern presidencies
Obama, Bush, and Clinton vow to help Haiti rebuild and, in Clinton's words, 'escape its history.' The three Presidents also appeared to put some of their own history behind them.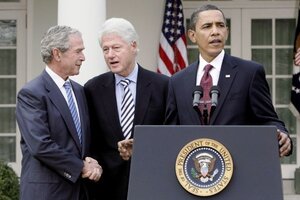 Pablo Martinez Monsivais/AP
Bill Clinton laid a small arm-hug on George W. Bush as President Barack Obama talked about "two gentlemen of extraordinary stature" this morning in the Rose Garden.

With all three most recent presidents together for the first time – and Mr. Bush's first return to the White House since he spent his last hour in the office on Jan. 20, 2009 – Mr. Obama announced a new Haiti relief fund chaired by Messrs. Clinton and Bush.

A 7.0 magnitude earthquake rocked Haiti's capital, Port-au-Prince, four days ago, likely killing tens of thousands in the former US colony.

President Obama warned that the people of Haiti "face some tough days over the next several days as people are still trying to figure out how to organize themselves, and experience fear, anxiety, and a sense of desperation in some cases."
Image of unity and respect
The meeting displayed a stunning image of unity and respect at time when the country is otherwise rent by partisanship, some of it fomented by leaders of the current and previous administrations.

But the get-together also showed that matters of life and death easily supplant the vagaries of politics when, as former president Bush said during a brief presentation outside the Oval Office, "we see the scenes of little children struggling without a mom or a dad."

Obama has consistently weighed his administration's actions against the "mess" left behind by the Bush administration. But while former vice president Dick Cheney has attacked Obama's bona fides, especially on national security issues, Bush himself has kept a very low profile since leaving the Oval Office.

One of the biggest marks on the Bush presidency, of course, was the government's flawed emergency response to hurricane Katrina, although Bush cited "citizen response" to that disaster on Saturday as he pointed out that "it's amazing how terrible tragedies can bring out the best of the human spirit."
Clinton's experience in Haiti
Meanwhile, Clinton and Obama have worked together on a variety of issues, including the North Korea nuclear threat. Clinton has most recently signed on as the United Nations special envoy to Haiti, a role that piggybacks on his decision to send in the 3rd Special Forces Group to restore democratically elected Jean Bertrand Aristide to power after a military coup in 1994. Clinton said several people whom he had met in Port-au-Prince during recent trips had died in the earthquake.

Mr. Clinton's wife, Secretary of State Hillary Rodham Clinton, headed to Haiti Saturday.

According to the recent political book, "Game Change," Clinton and Bush speak frequently on the phone. During the 2004 Indonesian tsunami, Bush tapped his father, former president George H.W. Bush and Clinton to raise money for rebuilding, creating the template that Obama credited today in announcing the new Haiti fund.

Clinton described the fund as "a place where people can know their money can be well-spent, ensure ongoing integrity of the process, and where we [are going] to stay with this over the long run."

With not a hint of unease in the air, Obama said he tapped the two former leaders to help with one of the largest relief efforts in US history.

"Presidents Bush and Clinton will help the American people do their part," Obama said. "Responding to disaster must be the work of all of us, reminding us not just of our common humanity but our common responsibility, and that a time of suffering must also be a time of compassion."
-----
Follow us on Twitter.