Gulf oil spill: Pensacola Beach covered in tar balls
Tar balls washed up along at least eight miles of Pensacola Beach Tuesday night. The invasion means that the intensity and scope of efforts to deal with the Gulf oil spill in this state will probably change.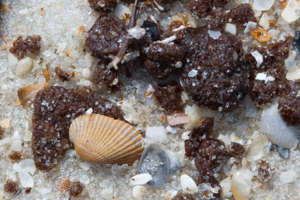 NEWSCOM/FILE
Along at least eight miles of this part of the Florida coast, tar balls from the Gulf oil spill washed ashore Tuesday night.
"My friends went swimming last night and came out covered in oil," says Heidi Grace, a visitor from New Orleans. "I cried. It's heartbreaking."
This is most likely the largest beach fall of oil yet along one of America's most popular vacation destinations. The scene could repeat itself in the coming days, petroleum experts say.
IN PICTURES: The Gulf oil spill's impact on nature
As the distant offshore spill comes much closer to home for the Florida Gulf Coast, the intensity and scope of efforts to deal with the spill in this state will probably change. "This is the day they can no longer say the beaches are clear," says Shane Howard, who is in the area to get married.
The tar balls came ashore after prevailing winds died and were replaced with heavy onshore winds. The tar balls washed up 15 feet at Pensacola Beach, which was already in the midst of massive vacation cancellations. Three large skimmers hovered on the horizon, as dolphins chased baitfish through oil-soiled breakers.
In 1559, the white-sand beaches here lured conquistador Don Tristan de Luna to shore, and Pensacola became the first European settlement in America.
"I'm fretful. This is a different product," says Bob West, the Santa Rosa Island public-safety director, inspecting tar balls that washed across beach chairs and left-behind rubber dinghies. "The reality is that it was just a matter of time for all of us."
IN PICTURES: The Gulf oil spill's impact on nature
Related: